HashiCorp Certified: Preparing for the Terraform Associate exam
Written on June 7, 2023

Estimated reading time :

3 mins




A brand new guide to prepare for the HashiCorp Certified: Terraform Associate (003) exam in 2023.
Background
"They give me questions I dont know. I give them answers they dont know" - Anonymous
The HashiCorp Certified: Terraform Associate exam is ideal for Infrastructure and Ops engineers. I cleared the exam today ie June 8, 2023. I had previous given the 002 version of this exam around 2 yrs ago. You can read about my journey on other certifications here.
My experience as a Cloud Architect and hands-on cloud engineer gave me the confidence to go for this certification.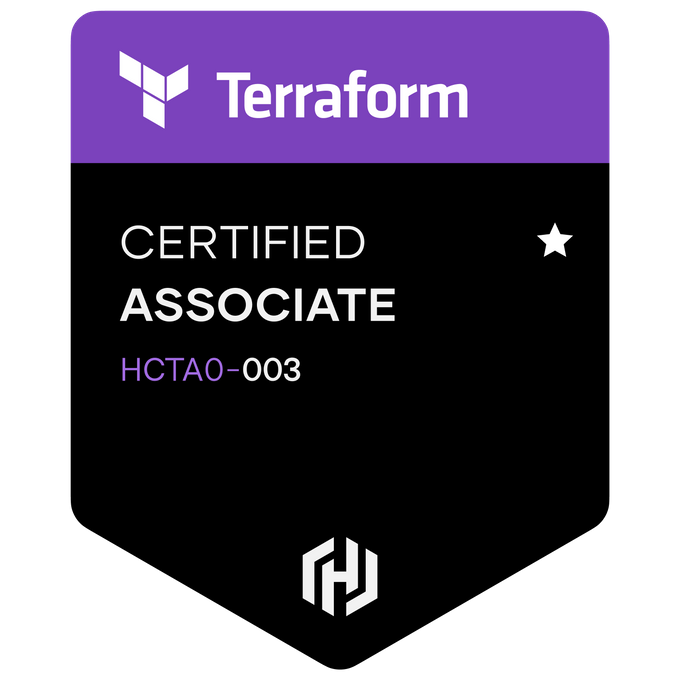 Preparation
Official study material
HashiCorp recommends those with Terraform experience to study with the review guide while those new to Terraform are better off with the study guide. Same content in both but the study guide has a better structure for learning from scratch.
Those with Terraform experience should be able to breeze through the material in a weekend while those new will probably take a week or so.
Udemy Practice tests by Bryan Krausen
I relied on a set of 5 practice tests.
Similar to the actual certification exam, each test was hour long with 57 questions.
I would give each exam + review the answers at the end to improve my score the next time. I was able to complete each test in half the time (30 min) every time.
My scores were

82%
84%
87%
84%
89%

I was confident of doing well in the exams now.
Scheduling the exam
I scheduled the exam through the HashiCorp website which eventually took me to PSI page.
Pre-exam process
I did the pre-exam prep below around 30 min before the exam :
I had to download a software which tested my machine for compatibility.
Take a pic of my identity card.
Take 15 sec videos of my surroundings.
Take 15 sec video of my hands and ears.
After another live 360 degrees scan from the Proctor, The exam was ready to begin.
Exam
It was an exam of 1 hour with 57 questions and I needed 70% to pass.
Similar to the practice tests, I started off on a quick note. I completed 20 questions every 10 min.
It took me 30 minutes to complete 57 questions.
I had flagged around 9 questions whose answer I wasnt sure of. Some of them had tricky language.
I had to fill a survey on myself and nature of the exam after this (no impact on the exam results).
I immediately received the congratulatory message page for clearing the exam along with the details of my performance. I got 86%.
The certificate was added to Credly in 48 hours.
Final thoughts
This was the easiest online exam I have given. Focusing on the cli commands is the main ask. Highly recommended for all engineers who work with Infrastructure as Code (IaC) as its a quick win.
I wish you the best of luck if you plan on giving this exam

.
Feel free to share your experiences. Every bit of knowledge helps

.